Your Home, Re-Imagined.
We all get attached to our homes. They carry memories. They can offer comfort and a respite from the outside world. We can't imagine having any other view or not having that old tree in the yard that our kids used to climb. But what do you do when the set-up of your home just isn't working for you, and you hit the point where the changes you want are so daunting you think you just may need to move?
Those changes that seem so daunting to you are the kinds of projects that we work on every day. Neil Kelly design consultants take this as a personal challenge. Their objective is to listen to you and to help you make those whole-home changes that make your life easier and that express your personal style. Together with our in-house architects, they analyze the layout and structure of your home, determine creative ways of using the space you have within the budget you specify, and reconfigure your home in such a way that you'll wish you had done it earlier.
Let's use this classic Portland Forest Heights home as an example.  Our client's family owned this property for more than 100 years.  While they loved the land, they were not quite as fond of the 1974, 1850 square foot contemporary sitting on it. Here's a partial list of the changes we made:
Changed the entire orientation of the home, moving the entry, living room, and kitchen
Added 940 square feet of space
Added a barrel-vaulted family room with light wells to the entry, kitchen, and family room
Improved surfaces in kitchen, living room, entry, and family room.
Northwest Exterior
New design captures clients' country lifestyle and offers more opportunities to enjoy outdoor spaces and views. 940 square feet were added.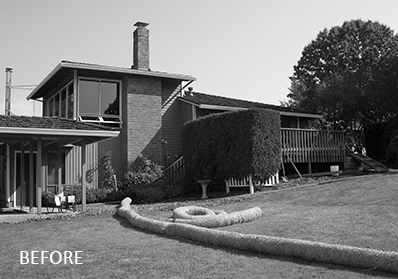 Kitchen
Featuring Milgard Ultra Windows, Sink by Kohler (Kitchen), Hammered Copper Sink by Link-A-Sink (Pantry), Faucets by Moen Brantford, Cabinets by Eddie Murphy Cabinetry, Island Cabinets by Decor, Black Quartz Countertops and White Macauba Granite Countertops (Island) by Caesarstone, Backspalsh Tile by Pratt & Larson, Flooring by Cronin.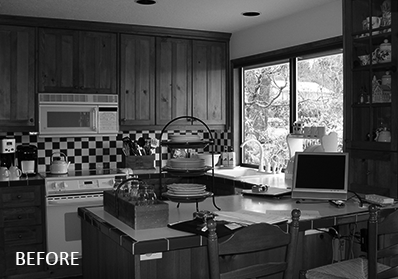 Living Room
Featuring Milgard Ultra Windows, Reclaimed Willamette Valley Barnwood for Wood Beams and Painted / Skip-Planed Ceiling by Barnwood Naturals.