Here's what the sun might see
Does your roof have good southern or western exposure?
Do trees or tall structures shade your roof?
Does your roof have at least 15 years of remaining life?
If your roof is shaded, is there a sunny area in your yard?
Does your neighborhood have HOA/CC&R rules against solar?
The professionals at Neil Kelly can help you determine if solar is right for your home or business with a complimentary solar evaluation. It's thorough, accurate, and free of charge. Click here to schedule your Complimentary Solar Evaluation today.
Suncentives
Financially speaking, these tax breaks are a really big deal. Here's why.

Federal tax credits can offset 30% of your system cost,  but they're set to expire soon, so don't wait!

Oregon offers a tax credit of up to $6,000 for homeowners, and up to 50% of the system cost for businesses.

Energy Trust of Oregon offers incentives of up to $6,500 to PGE customers, and up to $5,000 to Pacific Power customers.
Is your home ready?
Schedule a solar evaluation. It's thorough, accurate, and free of charge.
What system is right for your home?
What's your out-of-pocket cost, after incentives?
How much will your home's value increase when you add solar?
How much energy will your system produce?
How long will it take your system to pay for itself?
The professionals at Neil Kelly can answer these and any other questions you may have about solar.
More ways solar really shines
Modern solar electric systems are reliable, efficient, and economical. They increase the value of your home or business, and provide clean solar energy for decades. Plus, tax credits and incentives pay half or more of the cost of installing the system in many areas.
Residential solar electric systems are usually located on the roof. But in the Northwest, where we treasure our trees, many homes are shaded by tall trees. That doesn't mean solar is off the table- perhaps it's just off the roof.
Business owners: what if there was technology that would cut your energy bill by 35%, and you only had to pay half of the initial system cost? Would you want to take a closer look? The incentives for residential solar are good, but the incentives for commercial solar are even better!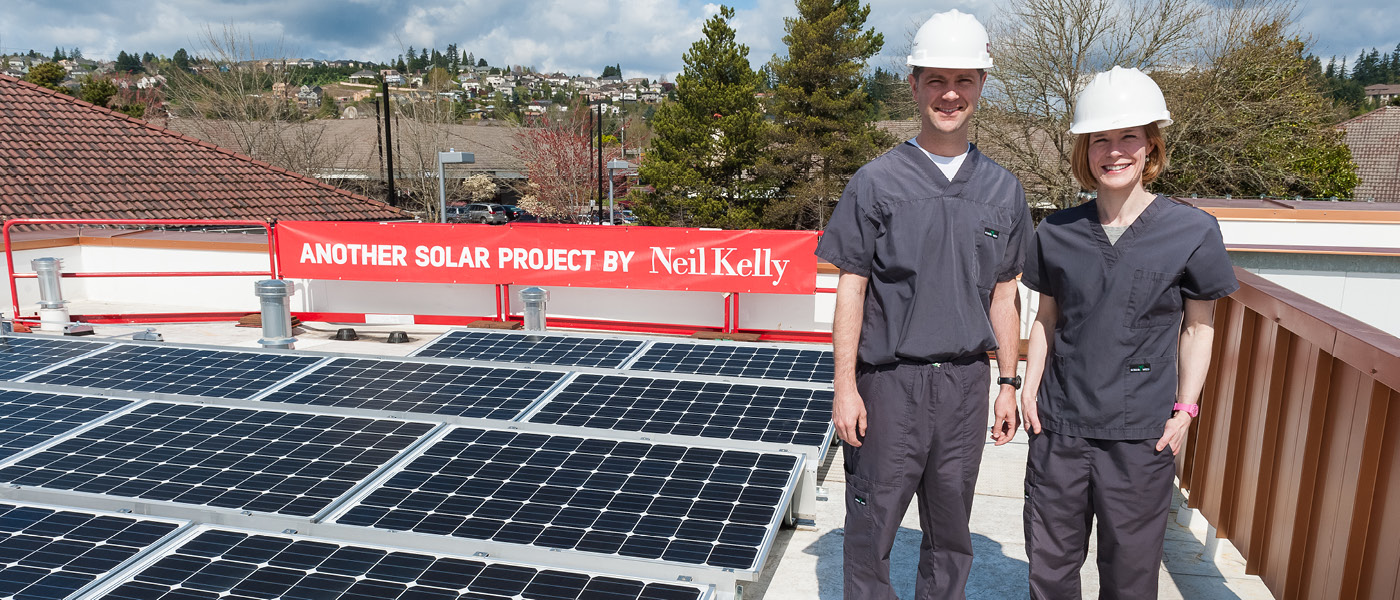 Neil Kelly Solar (formerly Mr. Sun Solar) specializes in the sale, design, and installation of photovoltaic systems and has long been dedicated to the expansion of cost-effective, renewable energy in the Pacific Northwest and around the world. Since 1947, Neil Kelly Company has been building a reputation for outstanding craftsmanship, uncommonly good service, and consistently satisfied clients.
"The Neil Kelly Solar crew was great. They're professional and fun to work with, and they paid a lot of attention to detail."
– Arthur and Meg M., Solar Clients, Milwaukie
Book a house call today
With 70+ years of expertise, we're the on budget, on time, Oregon-made solar A-team in your community.
Or call one of our representatives at 866-691-2719.